By Asma'u Ahmad
The Enugu State Government says it has strengthened its health surveillance against all viral diseases, including Lassa fever across the state. Dr Ifeanyi Agujiobi, the Permanent Secretary in the state Ministry of Health, disclosed this to the newsmen on Thursday in Enugu.
Agujiobi said that the state health surveillance officers had been retrained on case definition and symptoms of most viral diseases especially Lassa fever. He disclosed that the government had provided health kits for proper protection of medical personnel, adding that it has stationed a special isolation centre at Colliery Hospital on the outskirts of Enugu.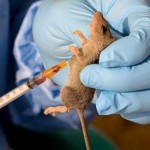 The permanent secretary advised residents and health practitioners to take universal health precautions in their daily lives. "The issue of regular and proper hand washing cannot be over-emphasised at any time. "Health workers should learn to wash their hands after finishing with a patient before attending another patient in the hospital and clinic.
"They should also put on nylon hand gloves when attending to patients. The gloves should be disposed off with each patient. "This is to reduce contact between the health practitioners and number of patients they see daily as well as check patient-to-patient contact with human fluid,'' he said.
According to Agujiobi, individuals and children should also learn to wash their hands regularly and properly, especially when they go out and come inside their homes.
"Individuals should step-up their general cleanliness at home and vicinity and also scale up their hand washing habit; while government will do the rest. "I am assuring the good people of the state that the ministry is totally committed to safe-guarding their health,'' the permanent secretary said.