By Adi Angyu, Bauchi
Governor Mohammed Abdullahi Abubakar of Bauchi State has allocated fifteen (15) per cent of the state total budget to health sector. The governor who presented a budget proposal of N135.3 billion for the 2016 fiscal year to the State House of Assembly today Wednesday 6th January 2016 for appropriation. He explained that the budget is made up of N65, 498, 008, 456 b as recurrent expenditure and N69, 805, 091, 554b as capital expenditure for the 2016 fiscal year.
Governor Abubakar emphasized that 15 per cent of the 2016 budget is set aside so as to ensure quality health care delivery system and programmes. Presenting the budget proposal to the State House of Assembly, adding that his administration will give priority to training and retraining of health workers and recruitment of additional and qualified ones in some critical areas.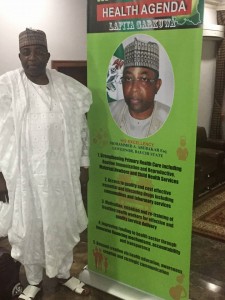 According to him, "efforts will be made to improve and strengthen functional health services, projects in the health sector which includes purchase of health and medical equipment, constructions and rehabilitation of hospitals and health centres in all senatorial areas and procurement of drugs and medical equipment's"
He highlighted that his administration is determine to providing effective and efficient service delivery and appealed to the lawmakers to expedite action, consider and pass the 2016 budget to enable the government implement the budgeted programmes and projects that will meet the yearnings and aspirations of the electorates.