"It is high time we think about the patient".
This was a statement made by the newly elected President of Pharmaceutical Society of Nigeria (PSN) Pharm. Ahmad Ibrahim Yakasai, FPSN in an exclusive interview with Health Reporters Editor Bilkisu Ado Zango, Haruna Gimba and Salisu Yusuf
HR: Kindly tell us about yourself?
AHMAD: (Laughs) My name is Pharmacist Ahmed I Yakassai. I was born on the 1st of December, 1960 in Yakassai Quarters. I started with Quranic School then enrolled into Shahuci Primary School in 1968, moved to Government Secondary School Gwarzo from 1968-1974, from 1974-1979 I graduated and moved to School of Ethics Studies Ahmadu Bello University Zaria from 1979- 1980 then gained admission into the Faculty of Pharmaceutical Sciences were I obtained my first degree BSC Pharmacy in 1983 from the Prestigious Ahmadu Bello University, Zaria. My internship was in Niger state and National Youth Service Corpse (NYSC) in Niger state. Similarly I have an MSC in Marketing from the University of Salford Manchester UK. I am a Fellow of the Pharmaceutical Society of Nigeria, Fellow of the Nigerian Institute of Logistic Management, Fellow institute of commerce (Chartered), Fellow of the International Visitors Program among others.
I have worked in different capacity in Kano State he said, I served as a onetime honourable Commissioner of Commerce, Industry, Cooperatives and Tourism, Commissioner of Land and Physical Planning, a Board Member Hospitals Management Board Kano, Pioneer Board Member Pharmacist Council of Nigeria, a Hospital Pharmacists, Manager/ Director Abdulkadir Pharmacy popularly known as "Dangi Pharmacy", Member Board of Trustees State Governance Reform Committee.
I am the  EZI ENYI DIOROMA OF UMUZIKE 1 ORLU in Imo State and presently the Chairman Yakassai Zumunta Development Association, Chairman/Managing Director Pharmaplus Nigeria Limited, Principal Consultant CEO Multiplus Consulting and Multiplus Resources Limited Kano State Branch, Member Board of Trustees, Society for Family Health (SFH), Member Board of Trustee Institute of Logistics Management, Member Board of Trustees Yakassai Zumunta Development Association, a part from being a researcher just to mention but a few.
HR: We would like to know more about PSN?
AHMAD: PSN is an umbrella body of so many technical groups including Association of Hospital Pharmacists, Association of Academic Pharmacist, Association of Community Pharmacists, other interest groups including Association of lady Pharmacists, Young Pharmacist Group, Association of Industrial Pharmacists as well as Pharmaceutical Manufacturers Group among others. PSN was founded in 1927 and it is one of the oldest associations in Nigeria and it is still well structured and stable with prominent personalities and individuals in the society.
HR: It is a known fact that every organisation faces some form of challenge(s) either directly or indirectly, Sir, what kind some challenge(s) does the organisation face?

AHMAD: We don't want to be selfish; we don't want to think only about Pharmacists. The Whole Pharmacist Profession is going through so many challenges and exciting times especially. We looked at the global disease burden coupled with technological advancement as far as the way of doing things in the whole health sector is concerned which has driven my agenda. I derive my agenda from the issue of public health and indeed looking at the National Health Policy visa vies the National Drug Policy, how do I marry the two together in order to achieve milestones as far as synchronising the policy. Yes! I know health policy will be useless without good quality and affordable drugs. You can talk of Health policy but if you don't have quality and affordable drugs you will not achieve anything so I decided to come up with key initiatives, then vision and focus to get it right.
HR: Sir, as the new President of the PSN what are your plans and how do you intend to achieve them?

AHMAD: (Smiles) when I decided to contest for the Presidency, I had a vision and was focused on what I wanted to achieve for PSN especially considering that I was the second to be elected from this part of the country. My Vision is I want to see a situation where I have a collaborative, participatory exemplary, transparent and accountable leadership. I want to bring about due process in terms of systems, process and structure of the Pharmaceutical Society of Nigeria so I am going to overhaul the whole structure which I have even started. I want to bring about inclusive administration with all Nigerians as far as our membership is concerned irrespective of religion or tribe, they must have the feel, I want them to even touch and they must be part of the system. It is very important for us to look at the Pharmacy Profession and the patients and what can we contribute in terms of prevention, adherence and treatment and indeed health promotion in whatever form or shape.
I was so lucky to stumble on a document the National Drug Distribution Guidelines (NDDG) which has not seen the light of day and I decided to push it by way of lobbying, advocacy, dialogue and diplomacy to make sure the take up is actualised because the guideline which if really we can get it to hit the ground running he said, it will go a long to sanitizing the problem of chaotic drug distribution in the country appealed to Government to see to the actualisation of the guidelines. .
Another area that is very important to me and also health care is to establish a Medicine Information Centre for which I travelled to the United Kingdom to gain experience and secure a license which I successfully did indicated that when the hub is established, one will be able to access all information about a particular drug be it the adverse drug interaction, side effect, drug food interaction, contraindications among others. We are not going to be discriminatory or bias, doctors, nurses, pharmacists and researchers can get access to the site that will be about harmony I am an Ambassador of Interprofessional harmony, I really want to bring about that, it is enough for all type of rivalry between the health sector professionals.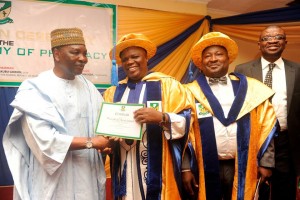 We are moving a lot of activities into the digital world so we are going online including registration; renewals and even mandatory continued education, I want to see a situation where you are in your room you read, you have the       questions of each module you click on the button, you answer and if cannot answer you go back and read again and if you click it gives you your points and so on which is very important hence, promoting online studies
HR: We would like to know as the new President of PSN, what you have in store for the welfare of Pharmacists in Nigeria?
AHMAD: This is a very important question. For the welfare of my people, Pharmacists I know we have group insurance but I want to strengthen it make sure it goes everywhere but particularly we do not have indemnity especially for the hospital and community pharmacists.
We hope to have a biometric Identity card for them in the country.
HR: Sir, the issue of fake and counterfeit drugs is greatly affecting quality and purchase of drugs in the country, what are your plans towards addressing this menace?
AHMAD: It is unfortunate we are still importing and fake drugs are available everywhere however, local production needs to be stimulated and encouraged. "If you cannot be self sufficient as far as drugs is concerned, you cannot talk of security, really it's a security issue" further adding that, PSN will encourage, write position papers, talk to the Government to create an enabling environment as well as patronise local industries and give them incentives especially if the Benzine plant can be actualised, it will go a long way in terms of sourcing our raw materials and reagents here which will encourage our local manufacturers and in the long term promote good manufacturing practices stressed that, there is a need for political will by Government.
HR: Finally Sir what is your message to other colleagues and the general public?
AHMAD: (Laughs) We propose to maintain a high professional standard and not to disclose any health issues to a third party or any incompetency of any health worker we are not to disclose it to the public but we are to resolve it in house. We should promote public health and continue to have the fear of God and the profession at heart.
Thank you sir for spearing your time out of your busy schedule.