By Asma'u Ahmad
The Kogi State Government has appealed to striking medical doctors in the state to end their industrial action in the interest of patients and their relatives.
Chief of Staff to Governor Yahaya Bello, Mr Edward Onoja, the Chief of Staff made the call when he led other top government officials to a meeting with the executive of the state branch of Nigeria Medical Association (NMA).
The state Chairman of NMA, Dr Godwin Tijani, told newsmen on Monday in Lokoja that Onoja met with the NMA officials on Saturday January 13.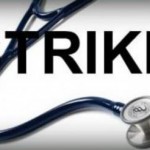 It would be recalled that the association had directed its members to embark on the strike on January 8. Dr Tijani said that the meeting, which took place at the Government House, Lokoja, lasted two hours with the Special Adviser to the governor on Health Matters, Dr Ahmed Attah, in attendance.
According to the chairman, he led an expanded NMA SEC comprising members of the SOC, SEC, NAGGMDP Chairman and Secretary, ARD KSSH President and Secretary, MDCAN and ARD FMC Lokoja Secretaries, a past state NMA chairman and ex-ARD state KSSH Presidents.
"In the meeting, we presented our demands as clearly stated in the communiqué issued after the last Executive Council Meeting (ECM) with the input from other members. "The issues of alleged harassment of some of our members who made depositions on the floor of the last ECM as seen in the alleged video clip delivered to top government officials was also raised during the meeting.
"In his remarks, the CoS said the governor is not pleased with the ongoing strike especially at this time of the year, that the NMA could have achieved a lot through dialogue, advocacy and lobby instead of embarking on strike. "The CoS noted that the payment of 60 per cent salaries and arrears is not peculiar to doctors alone, but to all civil servants in the state due to the dwindling allocation from the federation account," Tijani said.
He added that the chief of staff said that a special case could be made for doctors for the balance of 40 per cent, but it has to be through top level advocacy and not strike action.
Members of the state NMA are asking the government to meet their demands, including their full salaries and implementation of CONMESS as well as improved facilities.