By Asma'u Ahmad
The Director General of the Niger State Child Protection Agency, Mrs. Maryam Kolo, has warned parents and guardians against presenting their children for Female Genital Mutilation (FGM).
Mrs Maryam gave the warning in an interview with newsmen in Minna. She urged members of the public, especially mothers, to report cases of female genital mutilation to the agency, saying that those engaged in the practice would be appropriately sanctioned.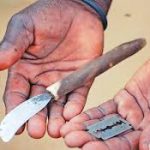 She said that FGM, also known as female circumcision, was a violation of the fundamental rights of the girl-child, which should not be condoned by any society.Maryam Kolo said that the agency would prosecute parents involved in the evil practice, warning that government would not tolerate such abuses.
"We will continue to sensitise our people to desist from such practices; we shall also deal with anyone involved," she said.
Kolo also advised members of the public to report other cases of child abuse, like rape, to the agency.
She also warned parents against forcing their female children into early marriage instead of enrolling them into schools to acquire formal education.
The director general said that the agency would soon begin a massive campaign on issues bordering on the rights of the girl-child to create more awareness.