By Ndidi Chukwu
The Nigeria's National Assembly has finally passed the 2017 Appropriation Bill presented by President Muhammadu Buhari, after five months of 'deliberation and consultation.'
The Senate and the House of Representatives raised the budget presented by President Buhari in December 2016 from N7.28 trillion to N7.44 trillion.
The Appropriations Committees of the Senate and the House of Representatives separately presented the harmonised reports of the budget for consideration and passed on Thursday.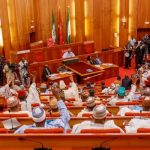 According to presentation made at the floor of the Assembly, Statutory Transfers of the National Judicial Council is allocated N434.4 billion, (N100 billion); Niger Delta Development Commission, N64.02 billion; Universal Basic Education, N95.2 billion; National Assembly, N125 billion; Public Complaints Commission, N4 billion; Independent National Electoral Commission (INEC), N45 billion and National Human Rights Commission, N1.2 billion.
While responding to the newsmen, Senate Spokesperson, Senator Aliyu Sabi Abdullahi, said the National Assembly is committed to open its budget for the first time as it provides breakdown of N125 billion allocation to the Assembly.
"We have opened our budget and the details are in the (whole) budget, that's what I have come to tell you," he said.
In the breakdown of the National Assembly budget released by Senator Abdullahi, the National Assembly management, Senate and the House of Representatives are to receive N14, 919, 065013; N31,398,765,886 and N49,052,743,983 respectively.
Other appropriations under the National Assembly are as follows: legislative aides, N9,602,095,928; NASS Service Commission, N2,415,712,873; PAC-Senate, N118,970,215; N142,764,258; General Services, N12,584,672,079; NASS Legislative Institute, N4,373,813,596; and Service Wide Vote, N391,396,169.
The National Assembly also appropriated N2, 987,550,033,436 for non-debt recurrent expenditure of the Ministries, Departments and Agencies (MDAs) that are not under statutory transfers club.
Capital expenditure is slightly less, taking N2, 177,866,775867. For debt service, the National Assembly earmarked N1, 488,002,436,547 to service domestic debts; N175, 882,993,952 for foreign debts; and 177,460,296707 for sinking fund to retire maturing loans, totaling 1,841,345,727,206 for debt service.