By Asma'u Ahmad
The Federal Government Committee on Lassa fever says it will adopt new proactive strategies and best international practice for eradicating the menace following recent outbreak of the disease in some parts of the country.
A member of the committee and Nasarawa State Commissioner for Health, Dr Daniel Iya, disclosed this while speaking to newsmen in Lafia.
He said a renowned virologist and President, Nigeria Academy of Science-led committee, Prof. Oyewale Tomori, had been working so hard to deliver on its mandate of eradicating the disease in the country. "Our expectation based on experience from the past is that Lassa fever outbreak occurs during dry season.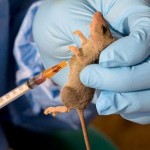 However, over the last three years, we have discovered that the outbreak is no longer limited to dry season but also during rainy season as with the current outbreak," he said.
Dr Iya expressed concern that states in the southern part of the country such as Lagos that had not reported case of the disease in the past were now recording incidents.
According to him, the current case fatality of the disease in the country is worrisome, adding that, "it could be that we as a people are not as proactive as we should or we are seeing a variance of the Lassa fever virus. He said a lot of work was being done to establish whether there is a variance of the virus or not.
The commissioner emphasised the need for patients exhibiting with symptoms of the disease to report to health facilities early for diagnosis to increase their chances of survival. "If suspected patients do not visit the hospital early enough, no matter the amount of treatment that you give, the patient is likely to die," he added.
He said the state ministry of health would re-strategise its sensitisation campaign on the prevention and mode of transmission of the disease to run continuously since the outbreak was no longer seasonal as envisaged. He noted that the focus should be more on prevention rather than curative given the high cost of treatment.
"The treatment of Lassa fever for a single patient is almost N1 million. The drugs are expensive; but even more expensive, are the protective gears for medical personnel and care givers. "Each gear cost between N30, 000 to N40, 000, and if you have three nurses and a doctor attending to a Lassa fever patient on shift, then you are talking about four of those gears each day," Iya said.
Media men recall that the Minister of Health, Prof. Isaac Adewole, inaugurated the 19-member multi-sectoral committee in Abuja on Jan. 19, 2016. The minister urged the committee to come up with the best possible method for the eradication of Lassa fever epidemic in the country.