By Asma'u Ahmad
No fewer than 50 people from Okunran, Okoloke and Isanlu-Esa villages in Yagba West Local Government of Kogi state, have been confirmed to have died from a strange disease, whose symptoms include diarrhea, bloodstained vomiting and high fever.
Initially the disease was suspected to be a Lassa fever, but medical doctors told the state Commissioner of Health, Dr Saka Audu, who visited the affected areas on Thursday, that it was a strange diseases
that was unknown.
"We initially suspected Lassa fever after getting some misleading reports about people bleeding around, so we made a diagnosis for viral haemorrhagic fever (Lassa fever), but the result was negative," a Consultant at ECWA Hospital, Egbe Dr Jannette Hathorn told the commissioner.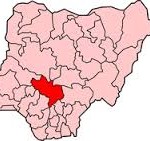 She said that the first case was that of a child of two and half years, who died 12 hours after he was brought to the hospital. "We are sure it is not Lassa fever; but our concern is that we do not know exactly what is happening. We have not arrived at a definitive diagnosis. Two adult patients were also brought here; one showed symptoms of ulcer-viral illness, but there was no bleeding component of any haemorrhagic symptom.
"We isolated them and both of them were treated for malaria. When they started improving, we let them go. Another parent brought a child to the hospital and pleaded for help. He said that 50 people had died in their village with similar symptoms of bloodstained vomiting, diarrhea and fever.
Dr Audu, who described the situation as 'serious,' said that the visit was to assess it "especially since many lives have been lost to the disease." "For now, what is clear and confirmed is that it is not Lassa fever; but whatever it is, we will carry out further investigation and come up with definitive diagnosis," the commissioner said.
He said that the information about the outbreak of the strange disease came to government last week and a technical team was immediately sent to take samples which were sent to General Hospital Irrua, Edo State, for definitive investigation.
According to him, the Fulani settlers have been reported to be the worst hit by the disease which broke out three weeks ago.
Leader of the Fulani settlement, Malam Ardo Damina Ibrahim told newsmen that the first case was reported three weeks ago, adding that children were worst hit.
"We at first used herbs to treat the patients but had to rush to the hospital after recording several deaths. We have lost more than 50 people and still have many helpless patients at home," he said.
He explained that parents became more confused when doctors could not ascertain the cause of the illness, saying that many died in the hospital while others were discharged without any cure.