By Asma'u Ahmad
An ecologist, Mrs Adeola Obadimu, says poisonous substances from bush burning can cause an increase in the incidence of severe asthma, cancer and pre-mature deaths.
Obadimu, the Head of Department of Water and Environmental Sanitation, Ife Central Local Government Area, said this on Monday in an interview with newsmen in Ile-Ife. She said that carbon monoxide, hydrocarbons, oxides of nitrogen, oxides of sulphur were the major pollutants of bush burning.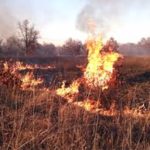 She also said that bush burning could cause reduction of visibility by particular matters, while aiding air stagnation and causing respiratory diseases. She said that smoke from the bush burning could also affect the people's eyes and cause breathing problems like bronchitis.
Obadimu said that exposure to smoke from bush burning was very harmful to people, particularly those with heart diseases. She said that the high level of carbon monoxide in the atmosphere was harmful to humans, as it could lead to the development of heart and lung diseases.
Obadimu, therefore, appealed to the people to desist from bush burning in order to preserve the soil nutrients and promote healthy living in the communities. She noted that several lives and properties had been lost to bush burning, as the capacity of people to control bush fires was very limited.