By Asma'u Ahmad
An Immunisation Team Leader, Maternal and Child Survival Programme, Dr. Folake  Olayinka on Friday urged the Federal Government  to introduce meningitis vaccine into the Routine Immunisation programme.
Dr. Olayinka, a USAID awardee, speaking with newsmen said in Lagos that the inclusion would be a proactive and preventive measure against strains of meningitis.
She added that there was the need for further studies to determine the appropriate meningitis vaccine to be introduced in Nigeria. She spoke against the backdrop of meningitis outbreak in some parts of Nigeria and the forthcoming 2017 World Immunisation Week.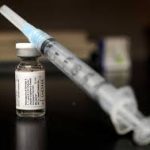 Our correspondent report that the week comes up from April 24 to April 30. According to Olayinka, preparing against outbreaks begins long before the first case is recorded.
She said that the preparation must entail strong routine immunisation system that would provide vaccination to target groups. "In a meeting of experts in October 2015 at the World Health Organisation (WHO), concerns over Meningitis C were raised. The preventive measures that needed to be put in place were discussed, such as enhanced surveillance, prepositioning for rapid laboratory diagnosis, lumbar puncture kits and antibiotics.
"Vaccination was also discussed. However,  given the shortage of the vaccines for the  Meningitis C strain, it was suggested that rather than the  ideal preventive campaign with a polyvalent vaccine, a reactive  campaign should be conducted at the onset of an outbreak," she said.
She told newsmen that the recent outbreak of Meningitis C in 19 states of Nigeria had resulted in more than 400 deaths. Newsmen reports that since the beginning of this year, the country has reported about 4,637 suspected cases and 489 deaths from meningitis C in five affected states of Zamfara, Katsina, Kebbi, Sokoto and Niger.