By Haruna Gimba
Kofi Annan 1938 – 2018
Kofi Annan, the first black African to lead the United Nations, has died at age 80.
Annan, who was born in Ghana in 1938, served as the seventh UN Secretary-General, from 1997 to 2006, and was the first to rise from within the ranks of the United Nations staff.
He had also been a member of The Elders since 2007, a humanitarian group of a dozen leaders and activists of worldwide stature formed by Nelson Mandela. In 2013, Annan became its chairman.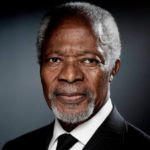 The Kofi Annan Foundation confirmed his death with "immense sadness" in a statement posted on Twitter.
Annan passed away peacefully Saturday morning after a short illness, with his wife Nane and their three children by his side during his final days, the statement said.
The foundation paid tribute to Annan as a "global statesman and a deeply committed internationalist who fought throughout his life for a fairer, more peaceful world."
As news of Annan's death has spread, many are paying tribute to a man who became a global figure as head of the United Nations.
UN Secretary-General António Guterres told CNN that Annan had been "an enormous source of inspiration" to him, adding that the late leader had been committed to his principles and values even if he had to pay a heavy price for them.
US Ambassador to the UN Nikki Haley said Annan "worked tirelessly to unite us and never stopped fighting for the dignity of every person."
UN human rights chief Zeid Ra'ad Al Hussein said he was "grief-stricken" over Annan's death. "Kofi was humanity's best example, the epitome, of human decency and grace," he said.
Ghanaian President Nana Akufo-Addo extended condolences on behalf of the entire nation and said the Ghanaian flag would fly at half staff across the country for a week, starting Monday. As the first person from sub-Saharan Africa to become UN Secretary-General, Annan "brought considerable renown to our country," he said.
Indian Prime Minister Narendra Modi said the world had lost "not only a great African diplomat and humanitarian but also a conscience keeper of international peace and security."
Iranian Foreign Minister Javad Zarif said he was extremely saddened by the loss of an "unwavering champion for peace, justice and rule of law" and a "dear old friend."
Russian President Vladimir Putin praised Annan's efforts to build the United Nations' peacekeeping potential in a telegram to Guterres, cited by Russian state news agency TASS. "I was lucky to personally interact with Kofi Annan. I have been in genuine awe of his wisdom and courage, of his ability to make informed decisions even in the most difficult, critical situations," Putin said.
Former US President Jimmy Carter, also a member of The Elders, said Annan "was a cherished personal friend and an inspiration to all who knew him."