By Asma'u Ahmad
The Joint Health Sector Unions and the Assembly of Health Care Professionals had issued a seven-day ultimatum to the Federal Government over non- implementation of 2012 agreement reached with the unions.
National Chairman of the JOHESU, Mr Biobelemoye Josiah, gave the ultimatum during a news conference on Wednesday in Abuja.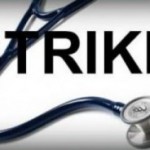 Mr Josiah said on May 10, 2012, agreements were reached between the Federal Government and the unions, saying that issues that were not agreed upon were referred to the National Industrial Court of Nigeria.
"We are therefore left with no option than to give a final seven days ultimatum with effect from Thursday Sept. 14, 2017 and if by the midnight of Wednesday, Sept. 20, 2017 our demands are not met. All our members nationwide would be called upon to embark on indefinite total strike," he said.
He said the unions demand from the Federal Government includes adjustment of CONHESS salary as done for CONMESS since 2014, and abolition of scale to scale promotion.
He said others are payment of outstanding arrears of promotion, skipping and relativity, autonomy of Teaching and Specialist Hospitals in the country among other issues.
"Others yet to be implemented are the implementation of Court judgments, review of retirement age from 60-65 years as done for the Tertiary Education Sector," he said.
He said that the issue of Autonomy for Teaching and Specialist Hospitals in the country as it affect service delivery to the citizens was partly responsible for the media tourism being witnessed in the country.
He, however, called for a full time employment for all Chief Executive officers, Chairman Medical Advisory Committee, among others to ensure commitment to the growth of the hospitals.
He called on the Federal Government to re-organise the management structure of the Teaching and Specialist hospitals for effective service delivery to reduce to the barest minimum medical tourism.