By Muhammad Auwal
The Executive Secretary of the National Health Insurance Scheme (NHIS), Prof. Mohammed Sambo, has unveiled a three-point agenda to reposition the scheme towards the realisation of its core mandate.
He disclosed his agenda while addressing staff members of NHIS at an official handover ceremony in Abuja on Monday.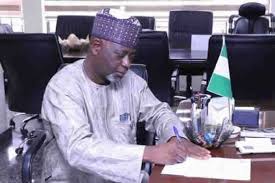 Sambo, who assumed office as the 11th Executive Secretary of the scheme, promised to work hard in repositioning the scheme through the execution of the agenda.
He listed the agenda to include: "Firstly, rebranding the system that would transform NHIS into a credible and result driven organisation.
"Secondly, engendering transparency and accountability in the entire operation of the scheme, and thirdly, driving the scheme to achieve a universal and quality healthcare for all Nigerians,'' he said.
Sambo said the agenda came about after a rapid assessment of the scheme, while appealing to staff members to put the interest of the people and the nation first above every other consideration.
The NHIS scribe however promised to do his best to return the lost glory of the organisation, adding that he will reposition the scheme towards the realisation of its core mandate and national development.
Sambo further decried the negative state of the organisation which, he said, suffered an image crisis and had resulted to loss of confidence.
He appealed to members of staff to pledge a perpetual cease fire and be at peace with one another as the scheme was not at war.
Until his appointment, Sambo was a Senior Lecturer, Department of Community Medicine, Ahmadu Bello University, Zaria.
He is a Professor in Community Medicine, an expert in Epidemiology and a renowned researcher.