By Muhammad Auwal
The National Hajj Commission of Nigeria (NAHCON) has advised pilgrims for the 2019 Hajj to maintain healthy lifestyle during their stay in the Holy Land for maximum benefit from the exercise.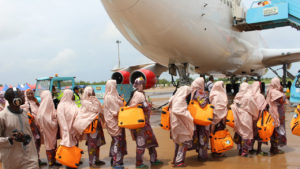 NAHCON Chief of Operations for 2019 Hajj, Dr Muhammad Abdulkadir, gave the advice in Madinah while speaking with newsmen on the level of preparations of the commission for the Hajj and expectations of pilgrims in the Holy Land.
He stressed the need for them to stay away from sun, in view of the hot weather to avoid dehydration and other attendant health consequences, adding that they should take much water.
Abdulkadir also urged the pilgrims to avoid eating foods that they were not used to in order to avoid constipation.
He urged them to maintain a clean environment as it would go a long way in ensuring their wellness in Saudi Arabia.
"Avoid overexerting yourself, maintain personal hygiene, make sure your room is well ventilated.
"Keep the rules and regulations of Saudi authorities and bath at least once a day so that other nationals would see us as a good people," he said.
Abdulkadir said the commission was fully prepared to offer them effective health services whenever the need arose.
He disclosed that NAHCON had scheduled 350 health personnel, comprising doctors, nurses and pharmacists among others to Makkah and Madinah to ensure effective health care services for the pilgrims.
"This is coupled with adequate drugs and other medicals."
AbdulKadir said that the commission had observed fatigue among the pilgrims said the commission had established three first Aid Centres for the pilgrims.
According to him, patients with special cases will be referred to a tertiary hospital.
Health Reporters gathered that Katsina, Kano, Kaduna and Lagos States have transported their intending pilgrims to Makkah since the commencement of the airlifting from Katsina on July 10.