By Asma'u Ahmad
The Ondo State Government has expressed its determination to reduce maternal mortality and morbidity rate to the barest across the 18 local government areas of the state.
The state Commissioner for Health, Alhaji Wahab Adegbenro, made the promise in Akure, the state capital on Monday at a news conference to commemorate the African Commemoration Week tagged "Vaccines Work, be
an Immunisation Champion."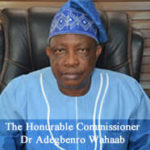 Dr Adegbenro said that the state government had immense belief in the sanctity of routine immunisation in the collective drive to keep vaccine-preventable diseases at bay in the state.
He said that the state government would support the Federal Government's initiatives in this regard. "As a responsible and responsive government, we shall continue to promote and support the coverage of immunisation services in our dear state, thereby keeping Vaccine-Preventable Diseases (VPDs) away from Ondo State," he said.
The commissioner said that there would be three-day special immunisation outreach services which would begin on Monday across the 33 primary health facilities in Akoko South West Local Government area of the state.
He said that the outreach was being taken to the council area because of its low performance in routine immunization in January and February compared to other councils in the state.
Adegbenro said that the exercise would be free in all the 583 primary health facilities across the councils. "A minimum of 1 fixed session is conducted per facility per week, while a minimum of four outreach sessions are conducted per facility per month," he said.
He listed the routine immunisation schedule per newborns at six weeks of life, 10 weeks of life, 14 weeks of life and nine months of life with only doses of yellow fever and measles vaccines. "Vitamin A supplements are administered to children, while the ministry also participates in all Supplemental Immunization Exercises (SIEs), the ongoing National Immunization Plus Days (NIPDs) just to mention a few."
"Using Penta 3 vaccine as a yardstick, a total of 14,484 children were vaccinated in Ondo State in the month of February, which is about 89 per cent of the monthly target population."The state coverage for the recently held measles vaccination campaignis 108 per cent, making up 735,168 children vaccinated," he said.