By Asma'u Ahmad
Parents have been encouraged to present their children for immunization against polio, as the National Immunisation Plus Days (NIPDs) enter the second day last Sunday.
A News Agency of Nigeria (NAN) reporter monitoring the exercise on Sunday in Lagos reports that health workers administered booster doses of the Oral Polio Vaccine (OPV) to children at homes. It was reported that the health workers, who administered the vaccine, also raised awareness of the programme among parents.
The four-day exercise, which started on March 25, involved house-to-house, transit and fixed post teams between the hours of 8:00 a.m. and 2:00 p.m. daily. One of the health workers, Mr Adebayo Rotimi, said many parents had
been responding and bringing out their children for vaccination.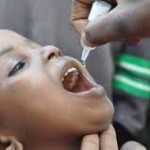 "We have no challenge reaching out to the parents; they are opening their doors for us to immunise their children," Rotimi said.
Another health worker, Mrs Taiwo Adeyemi, however, said some parents still showed reluctance to immunise their children. "Some mothers I approached said they prefer to take their children to the health centre to be vaccinated. I enlightened them about the importance of getting the vaccine and encouraged them to visit the health centre.
"We want to ensure that as many children as possible get vaccinated; we will still visit schools to administer the vaccine since the programme is still on till Tuesday, March 28," she said.
A mother, Mrs Joyce Mbanefo, said that the programme would encourage more parents who could not visit the health centres to have their children immunised.
Special Adviser on Primary Healthcare to Governor Akinwunmi Ambode of Lagos State, Dr. Olufemi Onanuga said polio eradication remained on the front burner of all relevant stakeholders.
In a statement on the exercise, Dr. Onanuga said Nigeria made significant progress in Polio Eradication Programme in 2015.
"This culminated in the delisting of Nigeria from the unenviable club of the polio endemic countries in the world in September 2015. However, it is worthy of note that some parts of the country are still reporting cases of Wild Polio Virus.
"The unfortunate discovery of three cases of WPV in Borno in August 2016, coupled with the influx of migrants to Lagos State on a daily basis. The importance of participating in the various immunisation campaigns such as this, will in no small measure contribute to the sustenance of our success story," Dr. Onanuga said.