By Haruna Gimba
Worried by dearth of workers in the health sector in Uganda, Civil Society Budget Advocacy Group (CSBAG) and Africa Health Budget Network (AHBN) have demanded the Ugandan Government to invest more health workers. The call followed a publication of the Ministerial Policy Statement and Budget for the Ministry of Health on 15 March 2016.
According to a press release by CSBAG & AHBN, by providing an additional UGX36bn, the government could employ doctors, midwives, nurses and pharmacists that are needed in the general hospitals.
The Civil Society Budget Advocacy Group (CSBAG) had hosting a pre-budget dialogue on March18, 2016 with over 500 people to ensure that the public's voice was heard and their priorities incorporated in the national budget.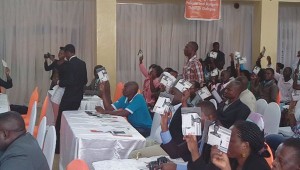 The views were expected to provide evidence to the government at the parliamentary public budget hearings of the importance Ugandans place on investing in health workers, the statement added.
Carol Namagembe from the Civil Society Budget Advocacy Group said: "Health is wealth. Funding health workers is a sound investment for our population and our economy. We demand that the government values our voice and values our health."
Coordinator Africa Health Budget Network, Dr. Aminu Magashi Garba commended Ugandan government for engaging Ugandans on the budget process. He said: "We commend the Ugandan Government for actively seeking the views of Ugandans on its budget. It has been shown that public participation and open budgets can improve the health of its citizens because those budgets will be more influenced by the public's priorities. African voices are calling for better spending on women and children."