By Ndidi Chukwu
On Thursday 5th May 2016 the Steering Group of the Partnership for Maternal Newborn and Child Health (PMNCH) Strategic Objective (SO) 2: Drive Accountability through a rigorous and transparent voting process has selected one of its members to represent the NGO constituency as a co-convener of the group. Aminu Magashi Garba founder and coordinator of Africa Health Budget Network, and Chair Board of Trustees, Community Health and Research Initiative (CHR) Nigeria has emerged the winner. He joins Austen Davis from NORAD, DrFlavia Bustreo Assistant Director General of World Health Organization and Yogan Pillay of the Ministry of Health South Africa as a co-convener.
At the 17th PMNCH Board meeting, 13-14 October 2015, Lusaka, Zambia, the 2016 to 2020 Strategic Plan was adopted by the Board for implementation from 2016 onwards. The Strategic Plan identifies priority targets that the Partnership will work on during the first 5 years of the Global Strategy and identifies the following Strategic Objectives which aims to achieve these:
SO 1: Prioritize Engagement in Countries
SO 2: Drive Accountability
SO 3: Focus Action for Results
SO 4: Deepen Partnership
The Partner Co-conveners, Steering Group Members andCommunity of Practice for the four SOs will;
Advance the Partner-centric nature of the Partnership
Enhance Partner country engagement in, and impact of the work of, the Partnership
Align to the strategic objectives of the Partnership, which include deepening partner engagement, building inclusion of a broad and diverse range of partners, whose skills and expertise can build the work of the Partnership
Provide leadership and guidance to the work planning process to respond to the post-2015 landscape.
Brief about Aminu Magashi Garba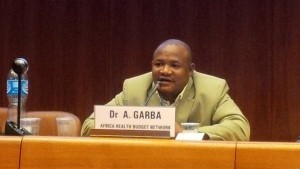 Aminu Magashi Garba founded and coordinates the Africa Health Budget Network (AHBN) which is à regional network committed to using budget advocacy to influence adequate spending, transparency and accountability in the health sector especially SRMNCAH. Through the work of AHBN, he is an active member of the Global Financing Facility (GFF) CSOs Coordination Group and Global Steering Committee for Harmonisation on Universal Health Coverage Advocacy Initiative. In Nigeria through the twin projects of E4A/MamaYe and MNCH2/Dfid he facilitated the emergence of 10 subnational accountability mechanisms for RMNCAH and a national accountability mechanism 'Accountability for MNCH in Nigeria (AMHiN) that developed a national score-card and report on Nigeria country accountability framework for EWEC. The Global Report on accountability in MNCH by Global Health Visions with funding from BMGF and CIFF has documented in detail the above named sub-national and national mechanisms.
Recently Aminu led the Africa Health Budget Network and launched a global and regional campaign "Value our Health' focusing on openness and participation. He writes a weekly newspaper health column with a Nigerian Newspaper 'Daily Trust' for over 13 years and the publisher of an online newspaper 'Health Reporters – www.healthreporters.info' that reports on SRMNCAH in Africa.
He is also the Chair Board of Trustees of Community Health and Research Initiative (CHR), a national NGO in Nigeria advocating for adequate finances in the health sector, transparency and accountability.
Brief about PMNCH
PMNCH (Partnership for Maternal, Newborn and Child Health) is one of the largest network in the world addressing issues related to Reproductive, Maternal, Newborn, Child and Adolescents Health. Its secretariat is hosted by World Health Organization in Geneva.